Our team tests, researches, and carefully curates all our recommendations. This post may contain affiliate links. We may receive commission on purchases made from our links at no additional cost to you.
The Karma Cards by Monte Farber is a 36-card astrology deck that comes with a guidebook. This is a bit of a unique deck to read. Your pulls will always be three cards and will align to provide you with an answer to your question.
A Quick Overview of Karma Cards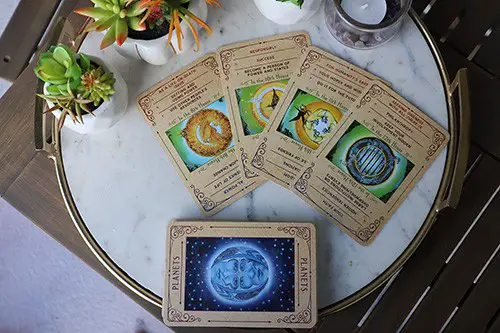 Pros
An unusual system makes for interesting reads
A simple system to learn
Cons
You can find this deck on Amazon. Let's get into the details of the Karma Cards
Packaging and Materials
The packaging this deck is held in is a hard case that flips open to the guidebook. The guidebook is tucked into a flap in the case. The deck of cards is packaged in a tuck box. This isn't my favorite setup for deck packaging. Because I keep my decks in their original packaging, I have to take the deck out of the tight little tuck box and try and finagle the book back into its slip when I'm done doing my reading. While the packaging itself is decently high-quality, the ease of use is not.
The cards themselves are a little thin but are of a decent size for shuffling, although the actual use of this deck lends itself more to pile shuffling than anything else.
The guidebook is clear and concise. It explains the system in an easily-digestible format. This means it isn't a hassle to learn the system.
Artwork
The artwork for the Karma Cards deck was created by Linda Garland. The artwork is masculine in nature and uses bright vivid colors. Because of the card layouts, the artwork is not necessarily the focal point of the deck.
Cards
The cards have a reverse and upside for reading—one in blue and one in red. How you choose to read the deck will depend on your needs during that reading. Each color or side has three different words or phrases. This, combined with the other two cards in the spread, present you with an answer to your query.
Cardbacks
The cardbacks identify which suite the card is in (house, sign, or planet). This is important to the use of the cards themselves as the suites should not be mixed together during a reading.
Card System
This deck is divided into the following suites:
How I Use It
This isn't a deck I turn to much, if I'm being honest. I've read from it a handful of times and had decent experiences. I use this deck for when I want something more pointed and for when I have a clear query. This deck doesn't work well for the spreads I often want to do (monthly spreads, daily one-card pulls, and similar spreads).
How Does It Read?
This deck is fairly direct.
My Personal Journey With This Deck
I don't have much to say in way of a personal journey with this deck. I do plan to read from it more often and update this section in the future. As of this writing, I've used this deck a total of four times since I received it. And while it is a lovely experience to use, I often find myself leaning toward the traditional tarot deck instead.
The Perfect Oracle Deck for the Bored Tarot User
Want a change-up from the typical oracle or tarot experience. Definitely give this deck a shot. Ready to purchase? You may find this deck in your local metaphysical shop but you can also find it online at Amazon.