Ever wondered how to approach your deck when you need a spread for a new situation? Us too, which is why we decided to create a gallery of our personal oracle card spreads for every situation including traditional layouts most will recognize. These spreads were created with oracle cards in mind but you can use them for, or in tandem with, tarot cards.
Below are our 6 favorite oracle card spreads.
Our team tests, researches, and carefully curates all our recommendations. This post may contain affiliate links. We may receive commission on purchases made from our links at no additional cost to you.
1. Daily Oracle Card Spread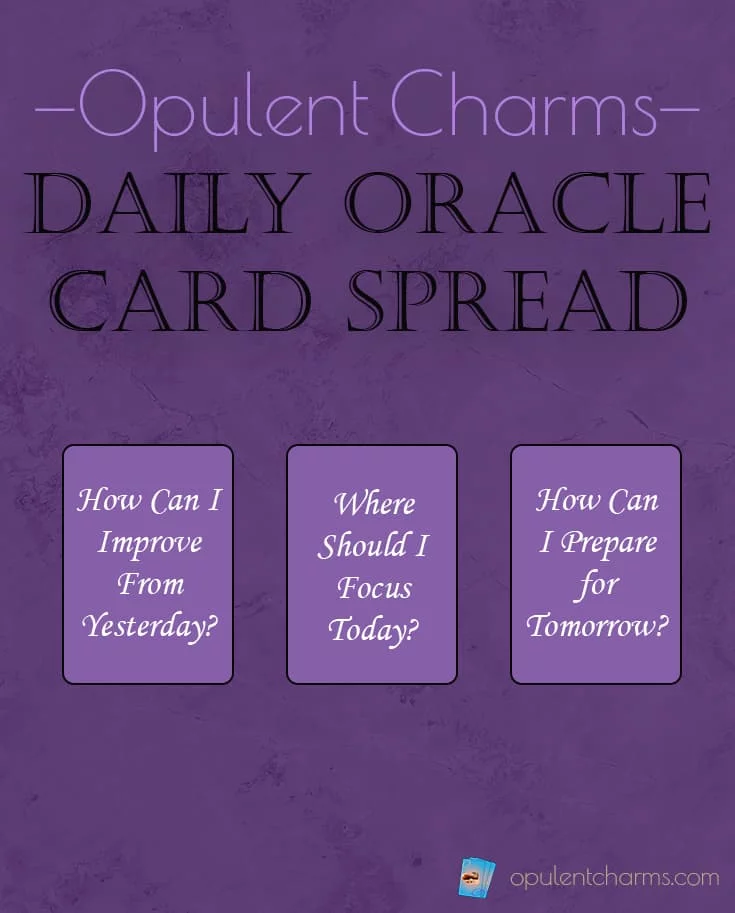 The daily oracle card spread is great for getting a pulse on the day. This spread generally takes roughly 10 to 15 minutes to complete, but times will vary depending upon how much time you spend reflecting and meditating over the cards you pull. I like to use this spread on weekends when I have a few extra moments to spend with the cards. (During weekdays I usually opt for a one-card pull.) My go-to deck for this spread is the Work Your Light Oracle Cards by Rebecca Campbell.
How Can I Improve From Yesterday?
Where Should I Focus Today?
How Can I Prepare for Tomorrow?
2. Get To Know Your Oracle Deck Spread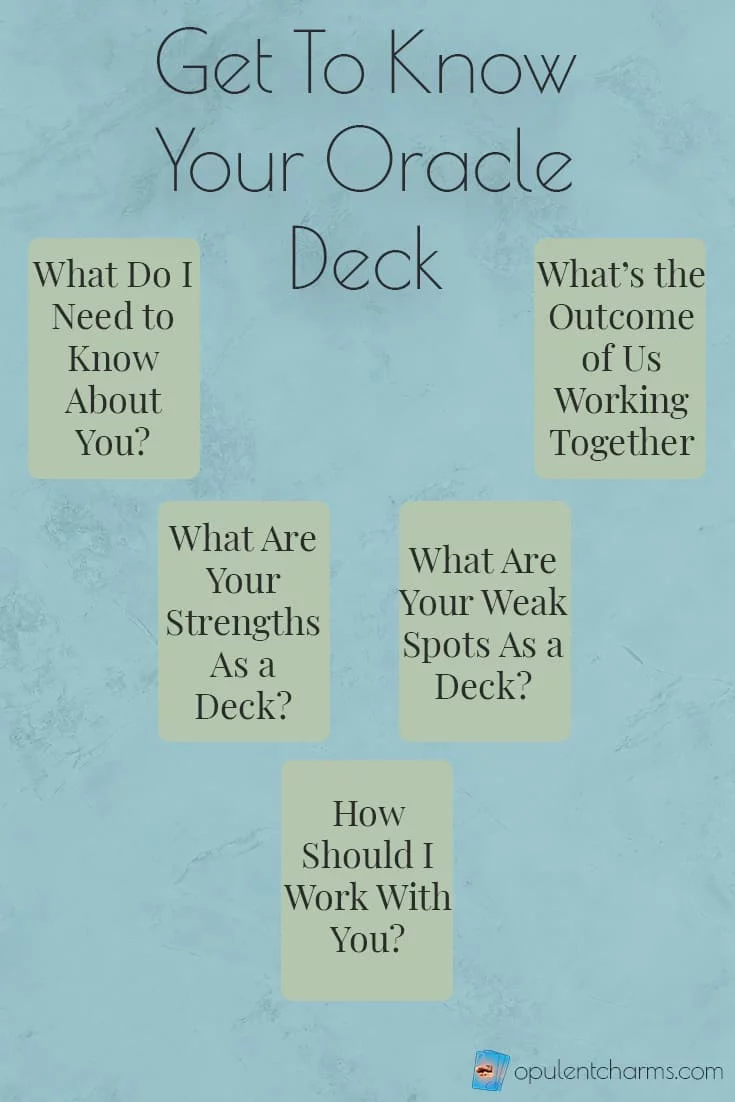 This isn't an oracle card spread you'll be using on the daily. But when you bring home a new deck to your collection, it's best to start by acquainting yourself with a spread such as our 'Get To Know Your Oracle Deck' spread. This spread can also be used for decks you haven't used for a long period of time. It uses an inverted pyramid, although you can spread the cards out in a straight line as well depending upon your preference. Go through the cards, reading left to right, focusing intently on the energy of the card.
Tip: This spread is used for decks you're getting to know. Be careful to be completely tuned in and open as it is unlikely to read exactly like another deck in your collection.
What Do I Need to Know About You?
What Are Your Strengths As a Deck?
How Should I Work With You?
What Are Your Weak Spots As a Deck?
What is the Outcome of Us Working Together?
3. Reflecting on Breakup Oracle Card Spread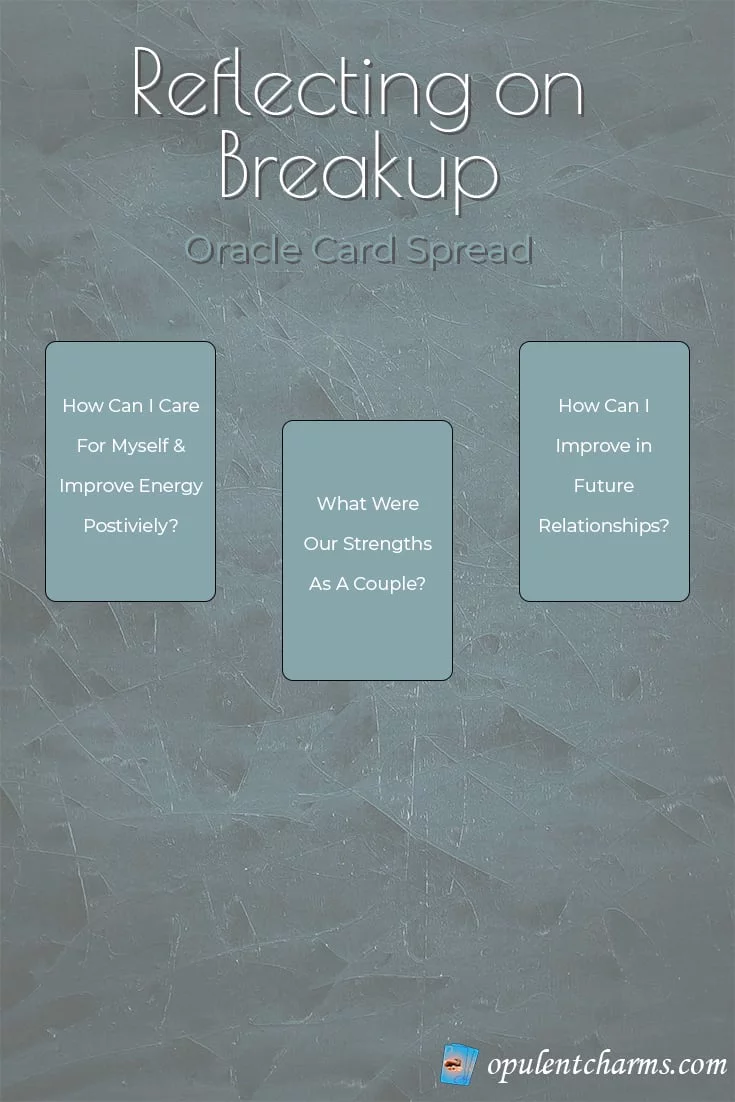 Breakups are difficult, no doubt about that. This spread is a good way to reflect, learn, and meditate over your experience. The goal is to pull the positive from the situation and assess the negatives to potentially prevent bringing them with you into your next relationship. This is most commonly used for romantic relationships but can be used for coworkers and friendship relationships as well.
How Can I Care For Myself and Improve Energy Positively?
What Were Our Strengths as a Couple?
How Can I Improve in Future Relationships?
4. The Writer's Daily Oracle Card Spread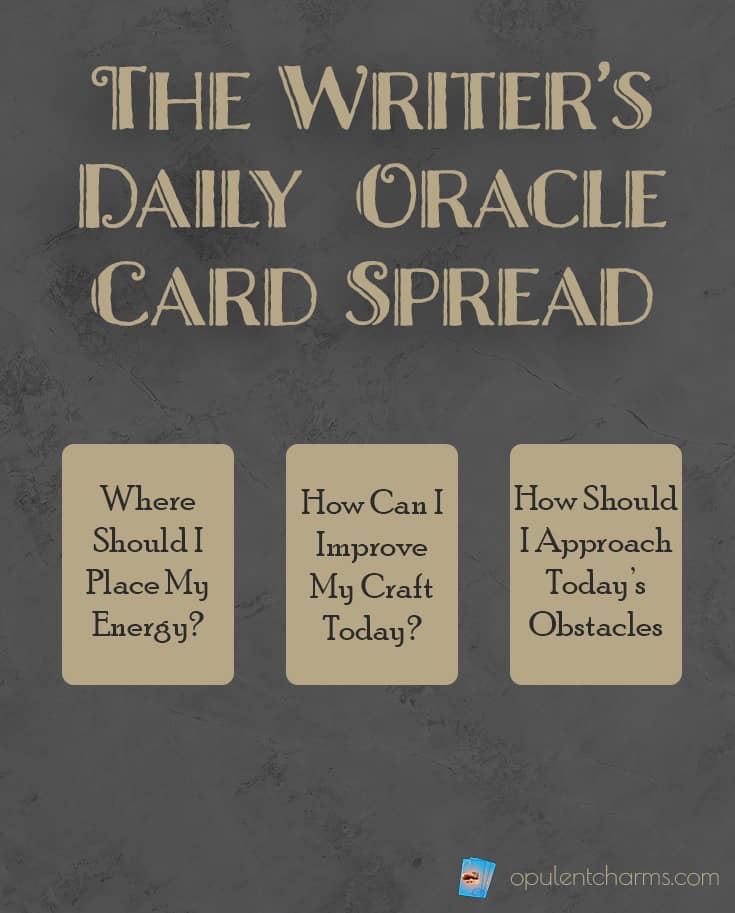 As a writer myself, I'm always looking for ways to incorporate oracle cards into my writing practice. This spread is one I turn to on days when I'm feeling stuck or need a bit more guidance. I find it's best for days where you plan to dedicate at least a few hours to your craft. Naturally, I turn to The Literary Witches Oracle for these spreads. I find the highly interpretive nature of this deck allows me to deeply reflect on the meaning of each card.
Where Should I Place My Energy?
How Can I Improve My Craft Today?
How Should I Approach Today's Obstacles?
5. Reflection on Relationship (Couple's Oracle Card Spread)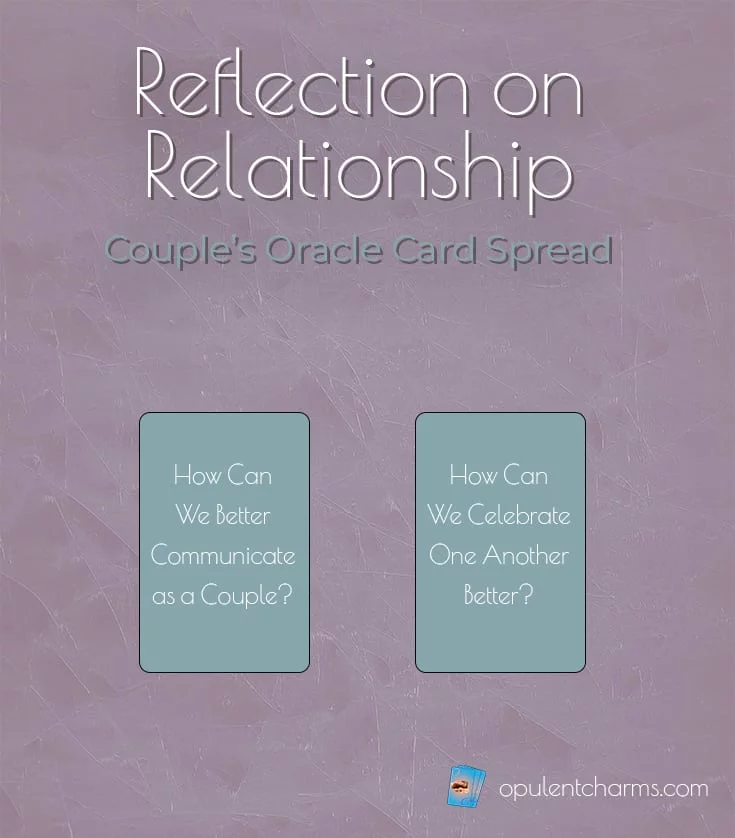 This is a spread you can read individually or as a couple. I find reading for your significant other can be an intimate and reflective experience. I recommend cards that are more interpretive in nature or to avoid using the guidebook. This allows a higher level of reflection and can often result in better outcomes and insight from the reading.
How Can We Better Communicate as a Couple?
How Can We Celebrate One Another Better?
6. Monthly Check-In Oracle Card Spread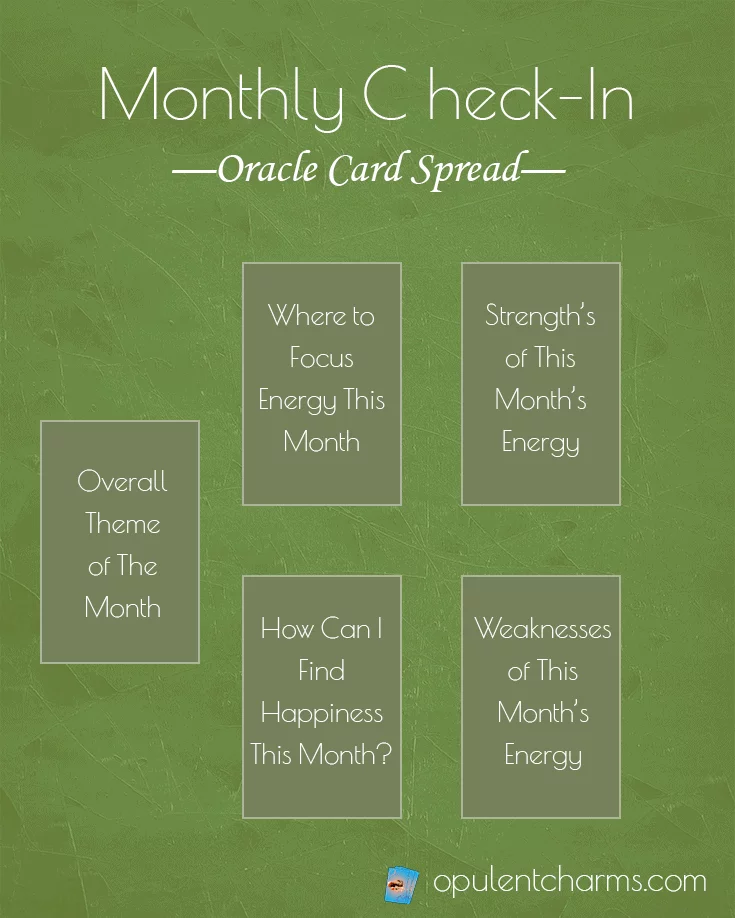 This spread works great as a combo spread using both tarot and oracle cards. I recommend using an oracle for the overall theme and tarot for the other four cards if you do decide to do a reading using two decks. This spread is one I turn to at the beginning of the month or in preparation of the coming month. It anchors you with the overall theme card then provides further insight and guidance. Never use this as a forecast but rather to guide your energy for the month. Last month I used The Everyday Witch Tarot and The Starseed Oracle in tandem for this spread.
Overall Theme of the Month
Where to Focus Energy This Month
How Can I Find Happiness This Month?
Strengths of This Month's Energy
Weaknesses of This Month's Energy