Tarot dice are far less popular than their card counterparts, but that doesn't mean they don't deserve a spot in your divination collection. In fact, after you get your hands on one of these sets, we think you'll find it to become a go-to for all your divination needs.
Now, there aren't many tarot dice on the market. These seem to be slowly making their way into the mainstream. There are plenty of astrology dice and even some offshoots like Lenormand dice. But we won't get into the weeds with these today. (However, if you do want to know how to use the tarot dice you pick today, we wrote a guide for that.)
Ahead, shop four tarot dice sets available and awaiting your weekly roll.
1. STARDUST Tarot Dice by Space Delirium
Best Overall Tarot Dice

Kickstarter launched this beautiful tarot dice set into being and we're certainly glad for it. As you'll come to see with all tarot dice currently on the market, this set consists of 13 six-sided dice.
The set was designed with the appearance of being star flecked or full of stardust, as the name suggests. This design, paired with the simple yet gorgeous imagery on each di face make this a must-have tarot dice set.
The set comes in a box but includes a black pouch for casting the dice. A sleek guidebook is also included.
2. Tarot Dice of Marseilles by Enochian Antiquarian
Best Beginner Tarot Dice

Another Kickstarter, this set of tarot dice (13 six-sided dice) comes in full, vibrant color and is packaged in a tin. These acrylic dice are 25MM, making them on the larger side.
This design is superior to alternatives, especially for beginners, as the full name of each arcana is listed on each dice face. There is no memorization needed in relation to symbols. Nor will you have to flip through a book just to know what you cast.
The tin is perfect for long-term storage and is a nice touch of some other packaging alternatives.
3. Ragnarok Sunset Sea Tarot Dice
Best Design Tarot Dice

The creative lovechild of Mysterious Balance and Marvoli, and part of the Triosmore brand, this tarot dice set is sure to impress. (Talk about gorgeous design, amiright?) This set pulls inspiration from Norse mythology, specifically the part about the catastrophe for which it's named.
This set was brought to life on Kickstarter (we stan a good Kickstarter project), and can now be found on Etsy or the Triosmore website.
The set consists of 13 six-sided dice and comes in an elegantly packaged sleeve. This design is especially appreciated as it should fit easily alongside your tarot decks. It comes with a digital PDF guidebook for guidance—as we're sure you'll need a bit of that for this new approach to an old practice.
4. Tarot Divination Dice
Best Simple Tarot Dice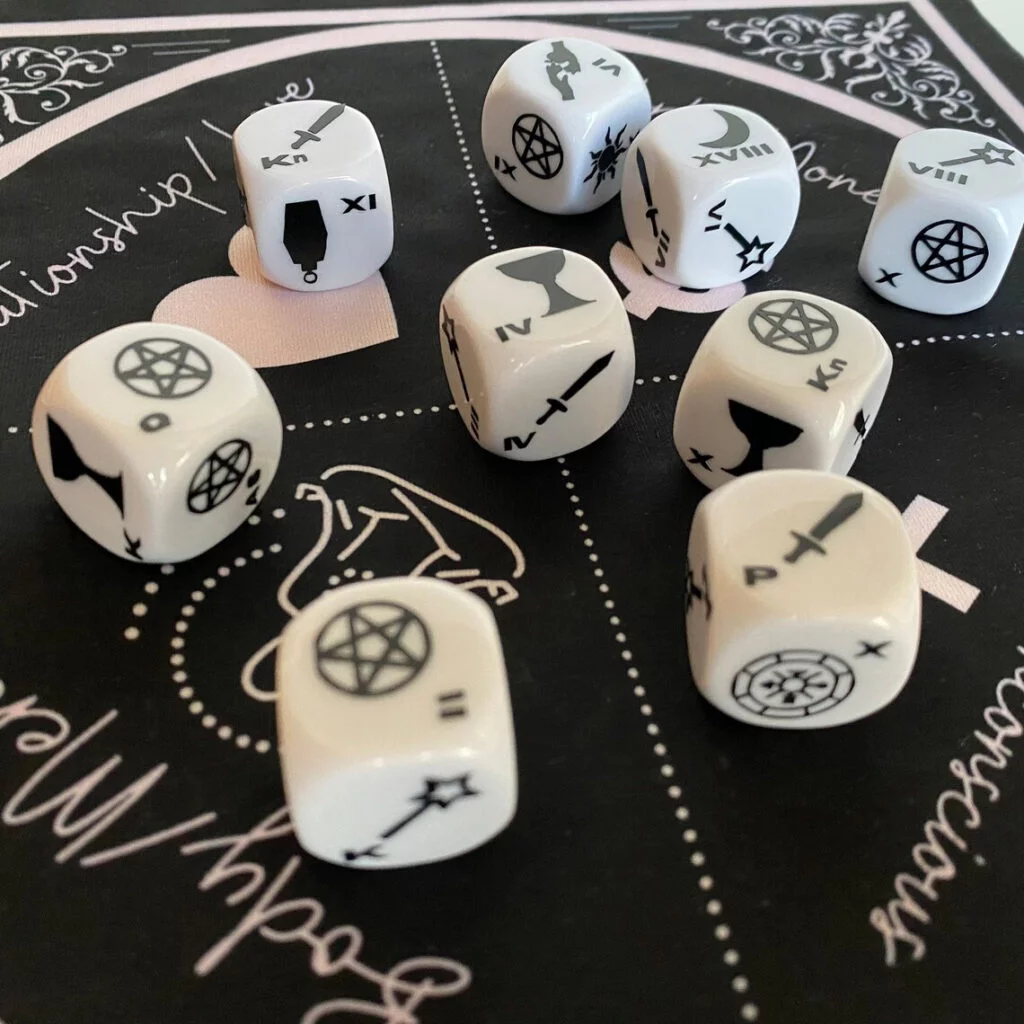 The most simplistic design of the three tarot dice sets, this set consists of 13 six-sided dice and is made from resin. The dice come in a drawstring velvet pouch, which includes a guide sheet with keywords for each arcana.
While not as breathtaking as the Ragnarok set nor as intuitively designed as the Tarot Dice of Marseilles, this set of tarot dice is perfect for the individual who wants to keep it simple.
FAQs
What is a divination dice?
Divination dice are a divination tool that descends from astragalomancy or cubomancy. These dice, historically made from the knucklebones of livestock but in modern-times crafted from resin, are used for predicting the future. These dice are far less prevalent than their card counterparts.
How is tarot divided?
The tarot is made up of 78 cards in total that are then divided into the major arcana and the minor arcana. The major arcana consists of 22 cards while the minor arcana is comprised of 56 cards. In dice form, the tarot generally consists of 13 six-sided dice.
How much do tarot dice cost?
Tarot dice range from $20 to $40 on average. This cost is contingent upon the materials used and add-on materials included, such as a storage pouch or guidebook. When picking tarot dice, you want a set that can stand up to being rolled many times without wearing down, so pay attention to details such as the symbols being painted on versus
How many tarot cards should I pull at once?
The number of tarot cards you pull will completely depend upon the size of the spread. It's perfectly fine to pull a single card, whereas a larger spread (like a Celtic cross) may require up to 10 cards.
How often should I use tarot dice?
You can use tarot dice as often or infrequently as you like. However, it is recommended to consult with your tarot dice, at most, once a day. Depending upon what you are consulting with the dice about, you may want to wait a week, or even a month, before checking back in.