Rose quartz is a crystal all about harmony, love, and relationships. Wearing a rose quartz necklace is a lovely way to ward off negativity and bring on the loving vibes. Put your self-love first by finding a rose quartz for yourself or show a friend, family member, or partner you care by gifting them one of these beauties.
While sorting through the thousands of rose quartz necklaces available for purchase, we gave special attention to pieces that had unique designs and were crafted from quality materials.
Ahead, we highlight the most breathtaking rose quartz necklaces we've found available for purchase.
Our team tests, researches, and carefully curates all our recommendations. This post may contain affiliate links. We may receive commission on purchases made from our links at no additional cost to you.
1. Heroine T Lock Rose Quartz Necklace from Moon Magic
Best Overall Rose Quartz Necklace
The Heroine T Lock Rose Quartz Necklace is stunning with a capital 'S', easily earning the spot of best overall. The authentic rose quartz is the clear star of the piece but the T-lock styling is an easy runner-up.
The gem authenticity of this piece was approved by GIA so you know you're getting what you paid for. (Love that!) The chain comes in at 20" and is 18K rose gold vermeil. The stone, a triangle-shaped step cut rose quartz, is 15mm x 11mm.
It goes without saying but we'll say it anyway, this piece is gorgeous.
2. Love & Light Necklace from Energy Muse
Best Splurge Rose Quartz Necklace
Exclusive to Energy Muse, the Love & Light Necklace is made from A-grade natural citrine beads and rose quartz. The necklace comes in at 21.5 inches, making it perfect for those who like a necklace that sits lower on the chest. It has a lobster clasp closure (We're here for the convenience!) and each bead comes in at roughly 6mm.
This necklace is all about love and positive frequencies. The design places the rose quartz close to your heart to open you up to the positive flow of energy.
3. Rose Quartz Bead Drop Choker from Luna Tide
Best Rose Quartz Choker

Talk about gorgeous! This petite beauty features five rose quartz bead drops for a choker that is free-spirited and stylish. These semi-precious rose quartz stones are attached to the choker chain using the traditional wire wrapping technique for a style that is seamlessly bohemian.
This piece is made to order with crystals coming in at roughly 4mm each. The necklace can be adjusted from 14 inches to 16 inches in length. Because options are important, Luna Tide offers this rose quartz choker in sterling silver, stainless steel, 14K gold fill, 14K rose gold fill, and bronze.
4. Raw Rose Quartz Pendant from Chrysalis Studios
Best Rose Quartz Pendant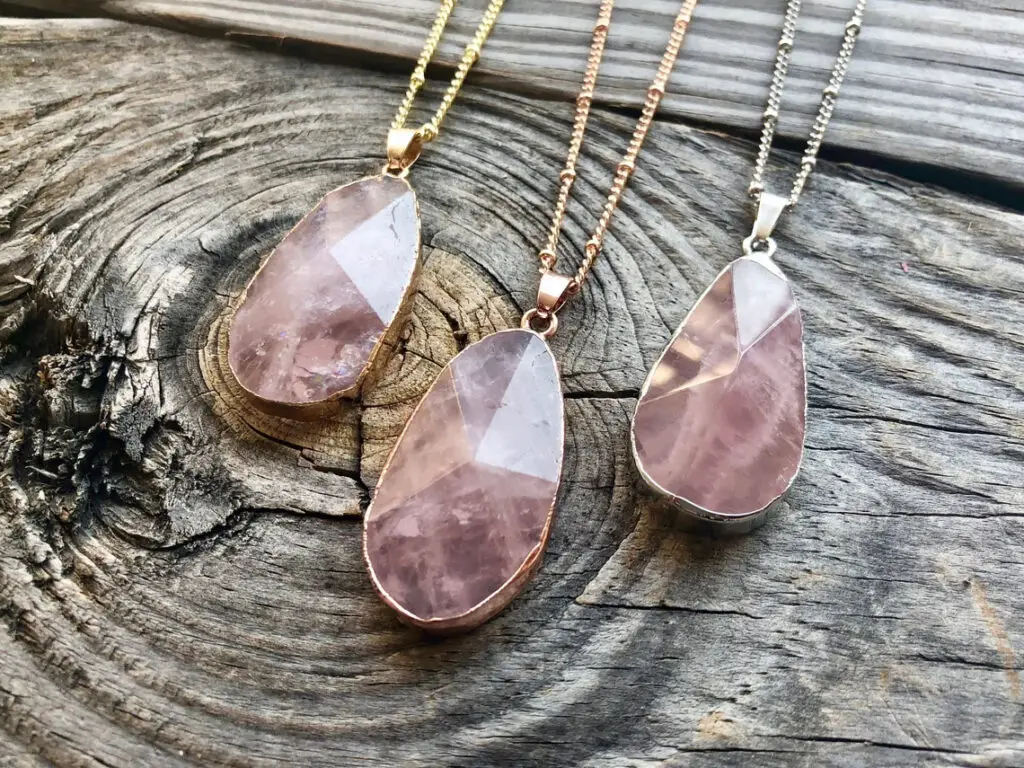 If you want a raw rose quartz, look no further! This stunning piece boasts raw rose quartz at its best. The pendant comes in at 25mm wide and 40mm high, making it a substantial size. This piece is carved into a geometric teardrop shape for a unique take on raw rose quartz jewelry. It is available with rose gold, yellow gold, or silver-tone plating dip.
And because options are awesome, this piece is available on an 18", 24", and 30" chain in your choice of .925 sterling silver, silver plated, 14K gold filled, gold plated, 14K rose gold-filled, or rose gold plated. They come with either or bead or link chain.
Remember: With pieces like this you're getting something one of a kind. Crystals are naturally occurring and therefore each piece made will come out slightly different. We think this gives pieces using raw crystals even more reason to be adored.
5. Delicate Love Heart/Cushion Cut Pendant Necklace from Carleen
Best Heart-Shaped Rose Quartz Necklace
Perfect for gifting (to yourself or others, we won't judge), this piece exemplifies the meaning behind rose quartz. It comes in 18K solid rose gold and features a gorgeous smooth tumbled rose quartz. This piece is both soft and feminine, making it the ideal heart-shaped necklace.
Carleen, the maker behind the piece, is a family-owned jewelry company based out of New York with a mission to make exquisite and timeless jewelry at affordable rates.
6. 925 Sterling Silver Teardrop Crystal Necklace from COAI
Best Silver Rose Quartz Necklace
Sometimes simplicity is the best option. For the days when you don't want to dress it up too much, this teardrop crystal necklace from COAI is the one to wear. This crystal necklace has a 16" cable chain with a 2" extender. The rose quartz teardrop pendant is a beautiful smooth stone, perfect for those who aren't a fan of the raw crystal look.
7. Flowing Rose Quartz Raw Crystal Necklace from Moon Magic
Best Gold Roze Quartz Necklace
Dainty yet refined, this piece from Moon Magic is a masterclass in elegance. The single rough-cut authentic rose quartz is the centerpiece of this necklace, surrounded by a glittering array of white sapphires.
The necklace chain is 18K yellow gold vermeil and is designed with two chains: 15" and 16".
8. Natural and Certified Rose Quartz Infinity Knot Solitaire Necklace from Diamondere
Best White Gold Rose Quartz Necklace
With a gorgeous design and a certification from DGLA to boot, this infinity knot solitaire necklace is a piece both stunning and timeless. For someone who wants to show off their love from crystals but with an extra layer of elegance, this necklace is the way to go.
This piece is made with rose quartz in a four-prong setting, a 16-inch sterling silver chain, and a solid 14K white gold pendant.
9. Rose Quartz Essential Oil Perfume Bottle Pendant Necklace from VividBloom
Best Unique Rose Quartz Necklace

The 1.5" perfume bottle necklace in rose quartz is a unique statement piece that is both functional and beautiful. Carry your favorite scent on the go with the hidden compartment of this necklace meant for oils or perfumes.
VividBloom does an entire lineup of different perfume necklaces ranging from quartz to amazonite. For this particular rose quartz option, the pendant comes on your choice of a 16-, 18-, 20-, or 24-inch gold-plated chain. You can even order a custom size if the pre-existing options aren't to your sizing preferences!
FAQ
What Does a Rose Quartz Necklace Mean?
Rose quartz symbolizes love of all kinds. If you choose to gift or wear a rose quartz necklace it will likely be with the intention of showcasing your love to yourself or others.
What Are the Benefits of a Rose Quartz Necklace?
Rose quartz is said to promote harmony, trust, and unity. These emotions may be directed at yourself or at a partner depending upon the giftee of the necklace.
How Can You Tell If Rose Quartz Is Real?
Getting a certificate of authenticity from a trustworthy source upon purchase is the best way to tell if rose quartz is real. However, you can also tell by looking at the rose quartz itself as often glass will be used to try to fool people. Rose quartz cannot be scratched by steel and is not entirely transparent. It is also generally cooler to the touch than its fake counterpart made from glass.
How Much Should a Rose Quartz Cost?
Rose quartz can cost anywhere from $14 to $100 per carat. This price will be heavily affected by the quartz's clarity, color, flaws, and size.
How Do You Recharge Rose Quartz?
You can recharge rose quartz in a number of ways depending upon preference. Popular options include charging in the moonlight or during sunset, placing under running water, or using a selenite charging plate.
Why Would You Give Someone a Rose Quartz?
You might gift someone rose quartz as a way to symbolize your love for them, usually romantically. It can also be used as a way to encourage self-love in the giftee.