From the minds of the wildly popular Work Your Light Oracle, The Starseed Oracle has been birthed into this world with an extra layer of stardust and wanderlust. This deck uses the distinct style artist Danielle Noel employed in the design of the predecessor, Work Your Light Oracle. It's actually what drew me to this deck, to begin with. That and my fangirl-level support of Work Your Light Oracle for any oracle newbies. But you can read all about that in my review of their other deck.
The Starseed Oracle is a 53-card deck with a 137-page guidebook released on January 7. 2020. This deck's target audience is cosmic witches, astrology loves, and those who feel just a little bit lost on this planet. It is specifically geared toward Starseeds and Starchildren. These might be described as old souls, as having deep spiritual wisdom, or as seeing beyond the life we have on this planet. Personally, I don't align with these labels myself so you can take some of what I'm saying with a grain of salt.
Our team tests, researches, and carefully curates all our recommendations. This post may contain affiliate links. We may receive commission on purchases made from our links at no additional cost to you.
A Quick Overview of The Starseed Oracle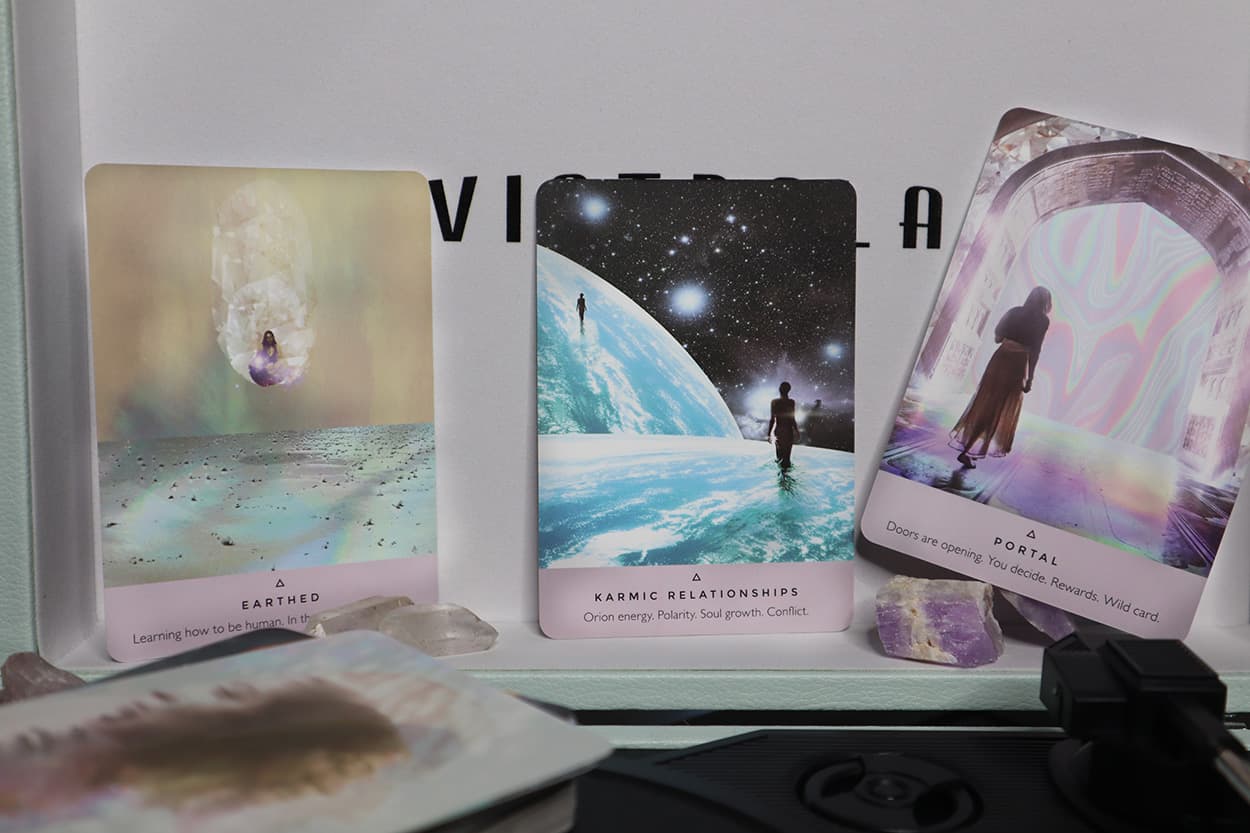 This deck grabs ahold of the sensation of wanderlust for worlds untraveled and lives unknown and makes it a physical item you can hold in your hand. According to the guidebook, " These cards were created to help you have a direct dialogue with your soul and the intelligence of the Universe." This is definitely the vibe I got from reading these cards.
This deck utilizes the deck box as a sort of technology to be used during readings. I did dabble around with this feature but find I'd rather just do a normal spread rather than play at making an oracle card castle.
Beyond that, on a general overview, I think this deck works well for those who want more spiritual and bigger-picture readings. You're not going to get much by way of a slap in the face and hard-hitting guidance. But this is great for the reader it works for. I don't always want a deck that is going to be blunt with me and sometimes I'm feeling introspective and existential.
Pros: This deck features gorgeous imagery and is beginner-friendly. The cards themselves are thick cardstock and the box is sturdy enough that you can use it for extended storage without the need for a deck bag.
Cons: This deck leans heavily on the woo-woo end and if you don't vibe with that sort of messaging then you're not going to be drawn to this deck.
Packaging and Materials
The packaging here is A+. (Not because of the odd use of the deck box during spreads but for the quality of the materials themselves.) The deck box is an interesting triangular shape when pulled apart. It's fairly easy to open and close and the cards nestle in from the top so you don't have to try and pull them out with a string as with many other oracle deck boxes.
The cards themselves are sturdy, thick cardstock that should stand the test of heavy-handed shufflers. They are a shorter, stouter deck unlike you'll find with oracle cards that use the traditional tarot sizing. Personally, I find these to be easier to shuffle. Plus, the smaller deck size adds to the ease of shuffling. Be aware, as with most decks that you'll need to break the deck in a bit as the cards are a tad sticky to start. But this is almost certainly a given with every deck you'll encounter.
Artwork
The artwork on these cards is very distinctly the work of creator Danielle Noel. It is a sort of digital rendering mix of photographs and illustrations woven together. I think this definitely adds to the mystical, soft nature of the deck. There's a clear aesthetic here and these ladies nailed it.
Cards
The cards feature a large image with a small section at the bottom where the name of the card and guiding words are added. Some of these cards have phrases like 'Orion energy. Polarity. Soul growth. Conflict.' and 'Learning how to be human. In the world, but not of it.' that are just odd to me. But overall the cards are easy to read in the sense that the font is simplistic and easy to look at.
Cardbacks
The card backs are a milky watercolor design that uses galactic structures. It's beautiful and ethereal. I do think these cardbacks really set the tone of the deck as being sort of soft and floaty. Luna Lovegood vibes if you will.
Card System

There's no fancy system with this deck. What you see is what you get. Pull a card and meditate on it, pull a couple, and do a small spread. There are no suites in this deck.
Guidebook
This is a deck where I highly recommend turning to the guidebook. The guidebook includes a 'Starseed Soul Inquiry' for each card which will truly help you get further with your readings for a more insightful result. The guidebook also includes a nice little writeup on each card that gives far more insight than you'll glean from just looking at the individual card.
Even trying to read the deck intuitively, I just don't get very far. If you don't like reading a guidebook then this deck may be hard for you to enjoy.
How I Use It
This is a deck I turn to when I'm feeling sort of existential and need to connect with myself on a soul level. It's now one I'd use for relationships with others or career questions. Instead, it's one I'd pick up if I feel lost in the world or I'm trying to connect with myself again.
When I use this deck I do a one-card pull or a three-card spread. I've used it for larger spreads but find that this deck doesn't hold up well in larger, more complex spreads as the card meanings are sort of fluffy.
How Does It Read?

I've spent at least a year working with this deck off and on to find how best to use it and when to pass it over for another option. Personally, this deck is incredibly woo-woo and you're not going to enjoy it much if you want something more tactile. However, if you identify as a Starchild or you feel rather lost in the world then it's an excellent deck. I think when it first came into my life this deck was perfect because I needed that sort of spacey vibe. Now, I find myself passing on it more often than not.
More About the Creators
Rebecca Campbell is the creator of this deck and a well-known figure in the metaphysical and divination spaces. She is a bestselling author based out of the United Kingdom. Before her journey to oracle decks, she was a creative director and I think that really shows with the brand she's built for herself. She has three books: Light Is the New Black, Rise Sister Rise, and Letters to a Starseed. Her other oracle decks are The Rose Oracle and Work Your Light Oracle.
Danielle Noel is the artist behind the deck. Her distinctive style can be seen across her various work. She creates oracle and tarot decks, journals, prints, and books. Her work includes The Book of Tarot: A Guide for Modern Mystics, A Yogic Path Oracle Deck, and The Moonchild Tarot among other works.
Similar Decks to The Starseed Oracle Deck
If you like The Starseed Oracle Deck, you'll likely connect well with Gateway of Light Activation Oracle and Sacred Destiny Oracle. If you're looking for a tarot companion for this deck, we recommend The Muse Tarot by Chris-Anne.
The Perfect Oracle Deck for the Starchild
If you consider yourself a Starchild or Starseed then this deck is an excellent fit. (Imagine that! It's only right in the name itself.) The imagery and messages were written specifically with these individuals in mind and it really shows throughout the deck with cards called 'Breath of the Cosmos' and 'Star Keeper'.
This is a gorgeous deck and I think the right person will be immediately attracted to its energy and aesthetics.