Oracle cards are as varied as the people who use them. These self-reflection and divination tools are used in spiritual practices, however, you don't have to consider yourself a witch to enjoy the benefits of oracle cards.
These close relatives to tarot cards are preferred by those who don't like the more stringent structure tarot decks provide. Due to the unique nature of each oracle deck, you'll find that no two are exactly the same. However, you might notice many can be grouped based on themes.
I've gathered the best oracle cards you can purchase in 2023 using strict criteria. I've looked not only at the public perception of the cards but at my own personal experiences with them to determine which cards are hits and which are misses. These 25 oracle card decks are my most highly recommended options available today.
1.Moonology Oracle Cards
Best for Cosmic Witches
The Moonology Oracle Cards is a deck that is often found in metaphysical shops and Barnes & Nobles alike. It is an oracle deck built around the phases of the moon and is an especially poignant deck for cosmic witches.
This deck includes 44 cards. It comes in a sturdy box and the cards are thick cardstock with a matte finish giving the reader a luxurious experience.
Each card includes a guiding phrase to use to reflect on during your reading.
2. The Starseed Oracle
Best Feminine Deck
The Starseed Oracle is the second deck by Rebecca Campbell (Her first, Work Your Light is also included in this 'best of' list.) and is an excellent, feminine deck. Like Moonology, Starseed pulls on cosmic imagery and themes but does so in a slightly more esoteric way.
Be warned, however, this deck does get rather mystical so if you're more into the concrete then it may not be the best fit. We tend to use this deck for single-card pulls.
The Starseed Oracle is a 53-card deck. The box it comes in utilizes a triangular design and is meant to be used during the readings or even on your altar. We personally don't find this to be intuitive and don't include it on our altar but it could work for you. Even if you don't use this deck's box design as an interactive part of the reading it stands on its own wonderfully.
3. Work Your Light Oracle Cards
Best Beginner Deck
The Work Your Light Oracle Cards is a 44-card oracle deck from the popular deck author Rebecca Campbell. As my personal first deck, I may be a bit partial to this one as a beginner-friendly option, but I promise I have the reasons to back it up. This 44-card design means you're dealing with fewer cards. Plus each card gives you something to think about and has an actionable step to take.
Be warned, this deck does include Christian imagery which may not be a good fit for all oracle users. However, it's only a few cards that are fairly easy to work around.
4. Woodland Wardens Oracle Deck
Best for Nature Lovers
The Woodland Wardens oracle deck gives a cozy, cottagecore vibe. It features both flora and fauna with an animal-plant pairing on each card. This deck pulls heavily from folklore and mythology to guide its messaging. The deck includes 52 cards and comes with a guidebook.
5. Seasons of the Witch
Best for Celebrating the Sabbat
Currently, Seasons of the Witch has an edition for the sabbat days of Yule, Beltane, Samhain, and (coming soon) Mabon with the assumption that the remaining sabbat days will be recognized with upcoming decks.
This deck series is a must-have for practicing witches as it covers details of each sabbat day, including some spells. You'll find that each deck exudes the energy of the sabbat it represents. Not only that, these much-loved decks are of high quality with gorgeous edging and cardstock that makes for easy shuffling.
6. The Literary Witches Oracle
Best Minimalist Deck
The Literary Witches Oracle is a luxurious deck with a minimalist take. Simply flipping through the deck, you'll find it to be divided into two parts: the literary heroes and the symbols. The linen cards are of high quality and the deck is 70 cards in size, making it on the larger end for an oracle deck. This deck is excellent for simple readings of one to three cards.
You should note before purchasing, this deck will be most enjoyed by those who tend to read more intuitively as the guidebook is rather slim.
7. The Wild Unknown Archetypes Deck
Best Circular Deck
The Wild Unknown Archetypes Deck, created by the well-known and adored Kim Krans, stands out for its unusual circular shape. This 78-card deck is built around four suites: the selves, the places, the tools, and the initiations. It also comes with a pretty hefty and thorough guidebook that is 224 pages in length.
8. Seed and Sickle Oracle Deck
Best Unique Deck
The Seed and Sickle Oracle Deck by Fez Inkwright is up there for one of our favorite decks. It focuses on sowing and harvesting which is related directly to our lives cyclical nature of being productive and resting. The uniqueness of this deck comes from the way it is read. Each card comes with two meanings which you follow based on if you are in a season of productivity or a season of rest and reflection. This makes this deck adaptable to all times of life. (Not to mention how aesthetically pleasing it is.)
9. The Spirit Animal Oracle
Best Animal Deck
The Spirit Animal Oracle is not only an incredibly popular oracle deck, it's also an excellent option for someone who feels especially connected to the fauna of the world. Authored by well-known and revered deck creator Colette Baron Reid, The Spirit Animal Oracle is a 68-card deck. Each card showcases the higher spirit of animals, including insects, birds, and fish. The cards include an illustration of the animal and a brief phrasing that should guide the reading. These phrases include verbiage like, 'Sweet results await.' and 'Learn from the past.'.
10. Angels and Ancestors Oracle Cards
Best Angel Deck
The Angels and Ancestors Oracle Cards is not only a lovely work of art but it also carries a strong vibe of connecting with the past and ancient knowledge. This 55-card deck features figures from Celtic, Aboriginal, Native American, and Earth-based religions. This is a deep and spiritual deck that is best used for introspective readings rather than quick one-card pulls.
11. Queen of the Moon Oracle
Best Lunar Deck
The Queen of the Moon Oracle is a gorgeous deck that focuses on themes of lunar energy. The imagery of this deck is beautiful and intriguing with cards that, in our humble opinion, are easy to read intuitively. The card backs featured an elegant phone phase calendar. Overall, this deck is just plain gorgeous with thick cards and a glossy finish. Keep in mind, however, this deck does lack diversity. Many of the shown models are all of the same age and body type. This deck also skews slightly more blunt and negative than many may be used to when reading oracle cards.
12. Moon Witch Oracle Deck
Best Artwork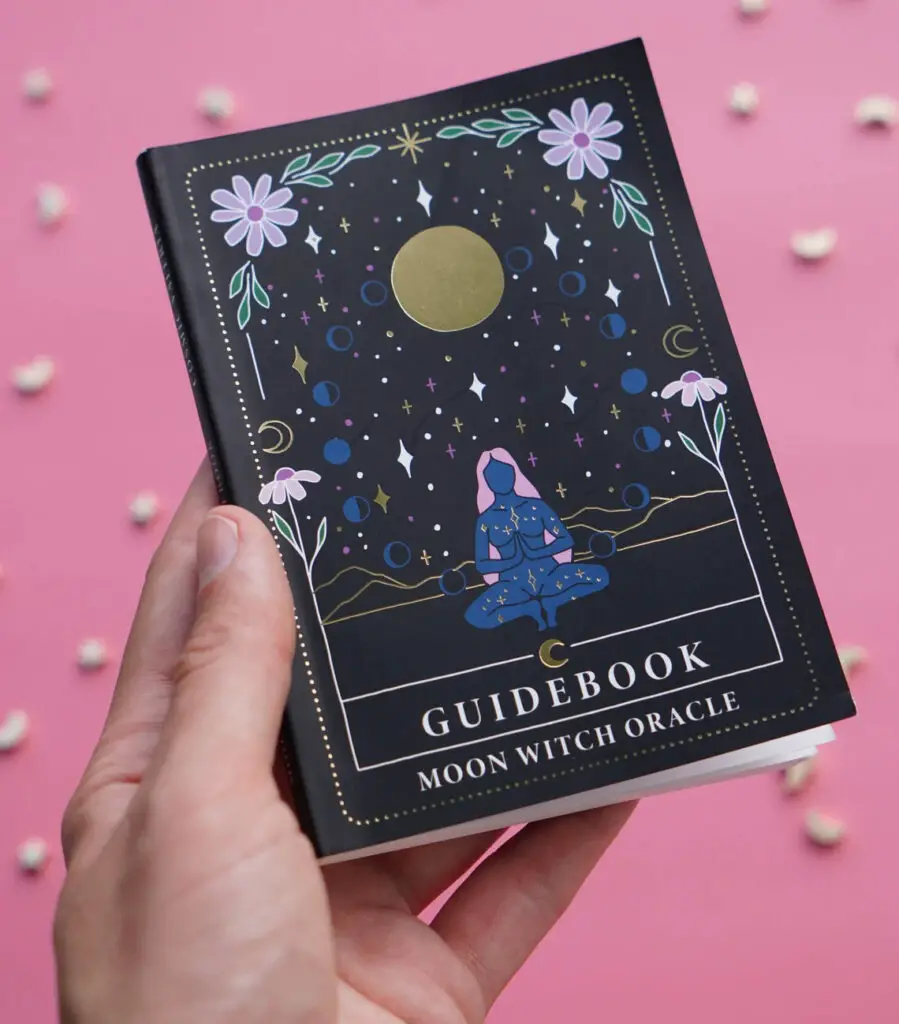 Art is subjective but we're just gonna said it: the Moon Witch Oracle Deck has the most gorgeous artwork we've seen on a deck. It has such a distinct vibe with flora, fauna, women, stars, and nature present. To add to that, the cards are high-quality with a smooth finish, gold foiling details, and gold edging. This is the second edition of the Moon Witch Oracle Deck.
The deck is centered around the Divine Feminine and the Moon. It includes 42 cards and is broken into suites (Action, Insights, Message, and Connection). This deck also comes with a guidebook.
13. Wild Whiskers Oracle Deck
Best Deck for Animal Lovers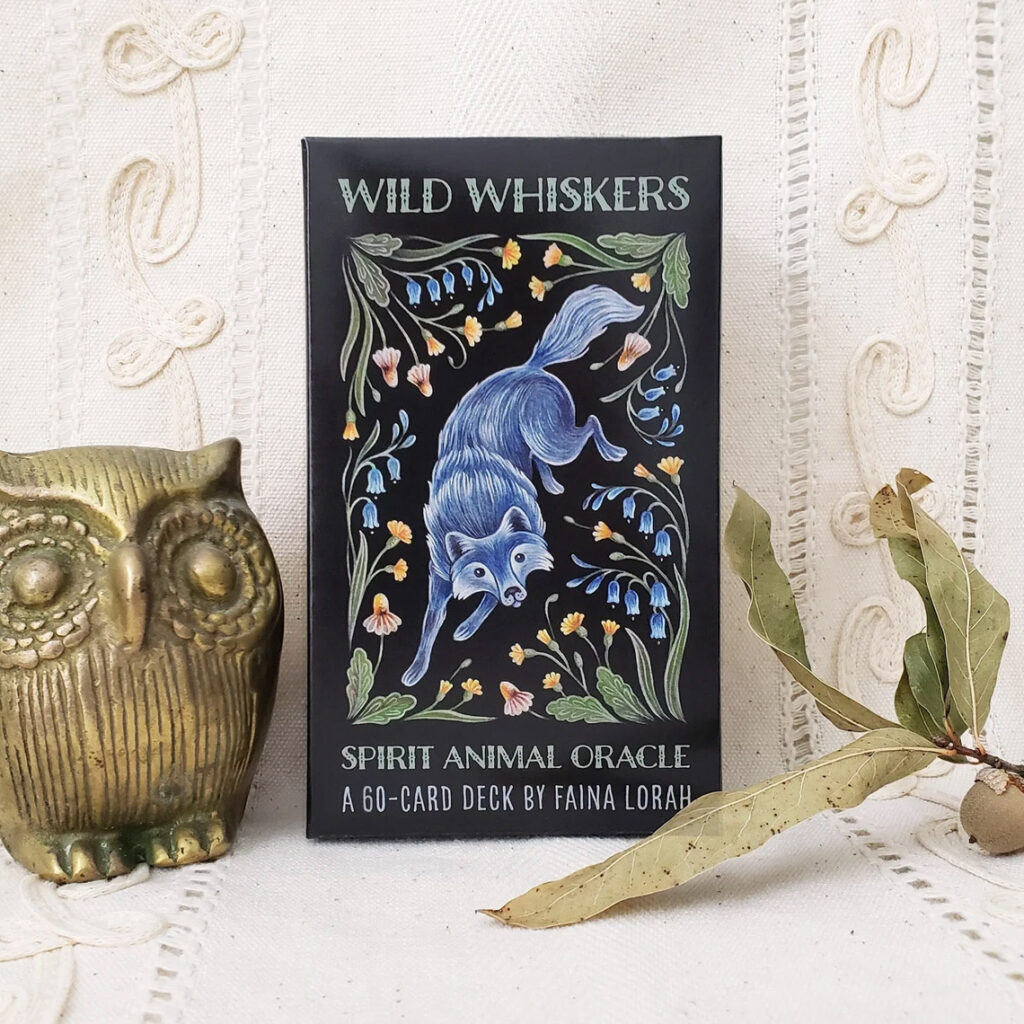 The Wild Whiskers Oracle Deck is a 60-card deck by Faina Lorah that focuses on spirit animals. The deck features beautiful watercolor artwork with symbolic words and incantations included on each card. The deck has black edging and comes in a sturdy box with a guidebook.
We love not only the aesthetic of this deck but also the names of the cards, the included incantation, and the guide words. It makes for an excellent deck for beginners as it is fairly easy to read and pull insight from. If you love the artwork of this deck (like us!) then you'll love the artist's Lenormand deck: Nocturnal Garden which is just as beautiful.
14. The Illustrated Crystallary Oracle
Best Crystal Deck
The Illustrated Crystallary Oracle is a beautiful 36-card deck that focuses on gems and minerals. It's based on the book The Illustrated Crystallary. Each card in this deck features a crystal and covers uses of said crystal for personal, creative, and spiritual purposes.
Other decks that are similarly beautiful and by the same creators are the Illustrated Herbiary Oracle and the Illustrated Bestiary Oracle. I don't think you can go wrong with any of the decks. Or better yet, introduce all three to your collection and use them in tandem.
15. Dreams & Incarnations Oracle Deck
Best Dark Deck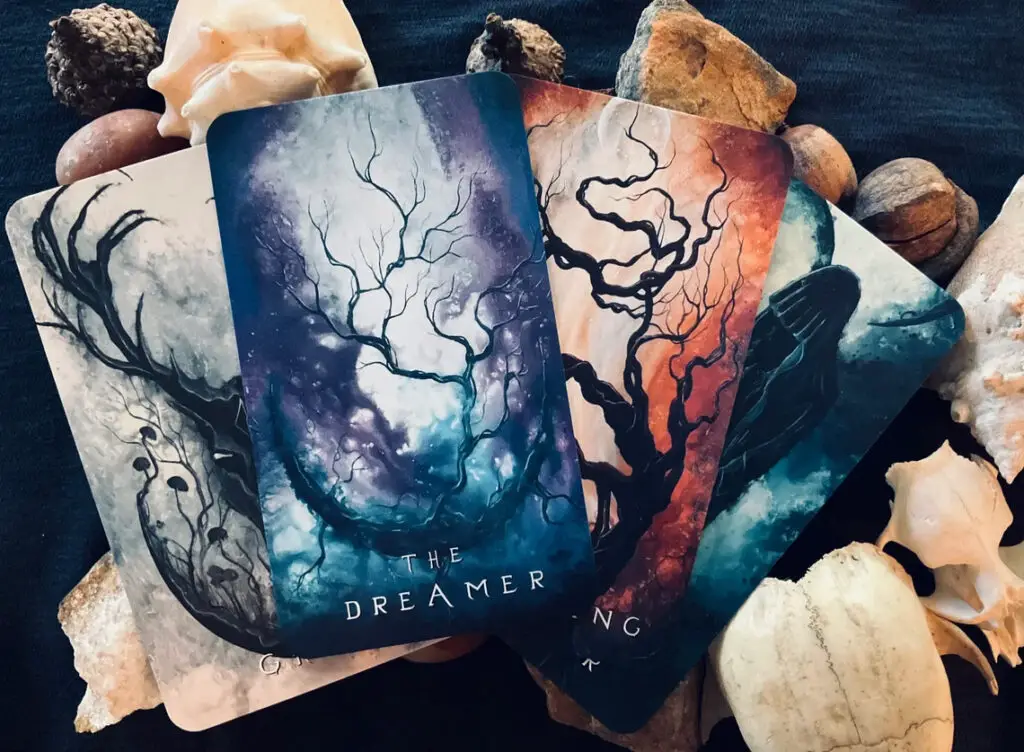 The Dreams & Incarnations bring nightmares and dreams to life with gorgeous artwork. It is a 52-card deck meant to be read intuitively. The artwork is simply incredible and really leans into the theme of dreams.
We do want to note that the guidebook has to be downloaded digitally or can be bought separately from Amazon for an additional fee. If this deck wasn't so stunning this would have been enough to knock it from our list of top decks.
16. The Herbal Astrology Oracle
Best Herbal Deck
The Herbal Astrology Oracle is a 55-card deck that pulls on ancient energy and healing powers with a focus on plants tied with astrological symbols. This deck features rich and earthy imagery of herbs. The guidebook is an especially rich resource as it covers the traditional medicinal applications, symbolic meanings, ceremonial uses, and more for the herbs, trees, mushrooms, and flowers symbolized throughout this deck.
17. Astrol-OG: The Deck
Best Astrology Deck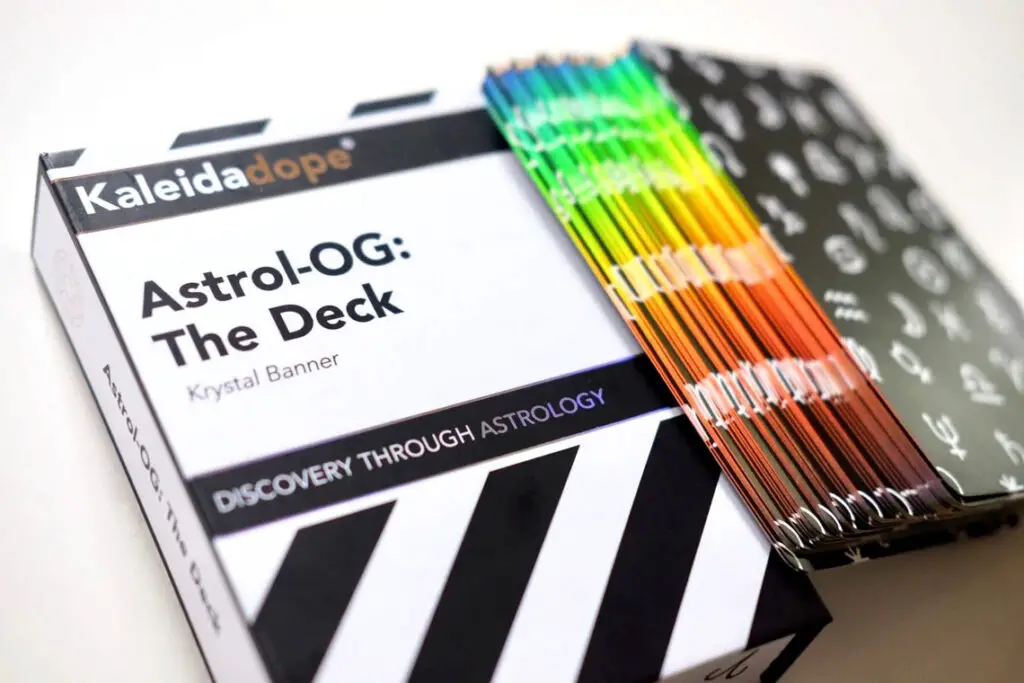 This deck is an astrology-focused oracle deck that can be broken into the Zodiac, planets and cosmos, aspects, and Houses. For astrology lovers, all of this will sound very familiar and will make for detailed readings you feel highly connected to. We love the thought that has gone into the creation of this deck. It is recommended to be used along with tarot for an even more thorough reading experience.
The deck comes with 47 cards and a small guidebook.
18. The Pregnancy Oracle Deck
Best for Expectant Mothers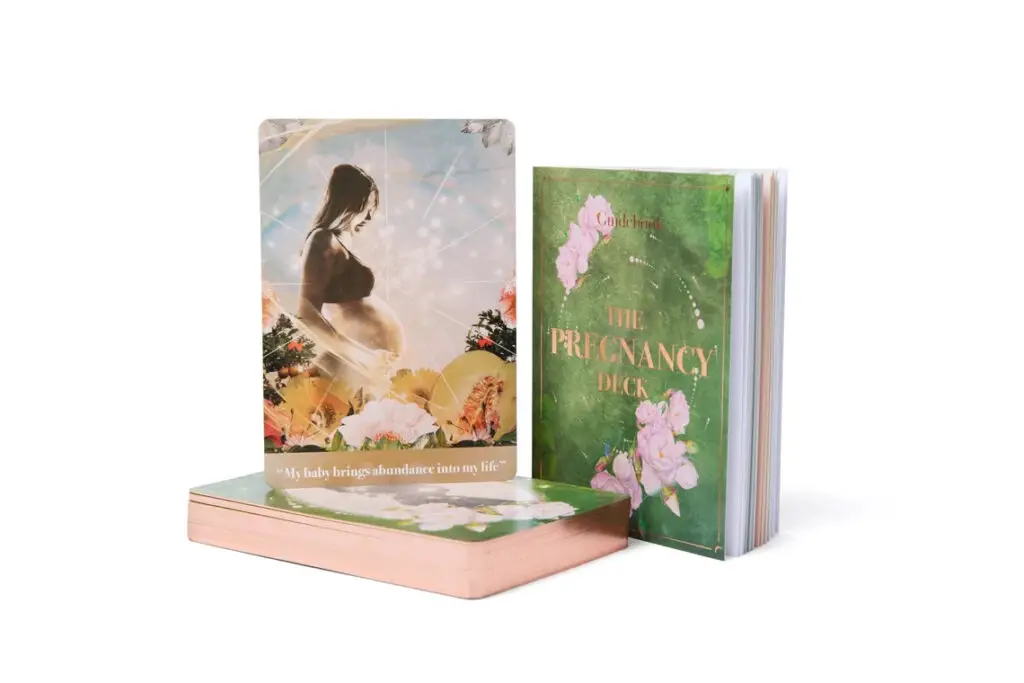 There really is an oracle deck for everyone and every life situation. The Pregnancy Oracle Deck is a gorgeous, peaceful, and whimsical deck for moms-to-be. It features 40 cards that symbolize the 40 weeks of pregnancy. It was created by a mother when she was an expectant mother which I think only adds to the special feel of this deck.
This deck is lovely as a baby shower gift or early on in a friend or family member's pregnancy as they can use it throughout.
19. Spirit Allies Oracle
Best for Baby Witches
The new Spirit Allies Oracle is a vibrant and fun deck that pulls on a few categories of allies: goddesses, animals, crystals, plants, and cosmic beings. This 60-card deck comes with a guidebook and gives straight-up warm, friendly vibes. This is the perfect oracle deck for a baby witch who wants something light and welcoming as they explore all that oracle decks have to offer.
20. Enchanted Blossoms Empowerment Oracle
Best Dragon Oracle Deck
While dragons are powerful, that doesn't mean they can't be beautiful. The Enchanted Blossoms Empowerment Oracle combines both the majesty of the dragon and the butterfly into one. Featuring 44 cards and a 108-page guidebook, the point of this particular dragon oracle deck is to empower one's self.
Carla Marrow is known for her capturing of the beauty and grace of True Dragons. So, you'll be happy with quite literally any of her dragon-based oracle decks, even if this one doesn't necessarily fit your taste.
21. Starcodes Astro Oracle
Best Deck for Astrology Fans
Starcodes Astro Oracle is a newer 56-card deck from Hay House and Heather Roan Robbins that focuses on astrological archetypes and celestial bodies in relation to our lives. AKA this is an astrology deck. I'm looking at all you baby witches with a hankering for star signs and horoscopes—this is your deck. We love that this deck is action-focused with each card giving you an action to choose to move forward.
The colors are vibrant in this deck and each card has a single guiding word to attune your reading as you reference the guidebook.
22. Glowwood Oracle Cards
Best Masculine Deck
Glowwood is a beautiful deck focusing on flora and fauna in a tactile way. You won't get fluffy, 'you-go-girl' energy from this deck and that's a major reason we love it. This deck is an incredibly unique reading experience as well making it an excellent choice for someone who wants to take up their daily divinatory practices.
23. Prism Oracle
Best Intuition-based Deck
This 45-card deck uses color to link to emotion and play off your intuition. If you love modern decks and are a fan of color theory then this is 100% the oracle deck for you. We love that the guidebook with this deck gives guidance for incorporating the themes of each card into your altar and meditation practices.
24. Awakened Soul Oracle Card Deck
Best Diverse Deck
The Awakened Soul Oracle Card Deck does a marvelous job of bringing plenty of diversity into the 50 cards. It features women of all ethnicities and sizes. Age and gender aren't as heavily diverse in this deck, however. The deck is modern with modern imagery, so you won't find as much mystical imagery within these cards. The deck also comes with a thorough 130-page guidebook.
25. Green Witch Oracle Cards: Discover Real Secrets of Botanical Magick
Best Green Witch Oracle Cards
There's a reason why the best green witch oracle card deck is quite literally named "Green Witch Oracle". This oracle deck goes beyond divination and helps green witches learn more about who they are, how to create magick, and work with spells and rituals. All while relating back to oracle portion of divination.
One of the best things about this deck is the fact that you'll readily be able to translate real world items into oracle meanings. You might find yourself planting based on spreads you pull and please let us know if you do!
FAQs
What are oracle cards for?
Oracle cards are a cartomancy divination tool for helping understand questions and issues arising in your life. You'll consult the divine and the guidebook of your oracle cards to determine what direction life is trying to take you.
What is the difference between tarot cards and oracle cards?
The main difference between tarot cards and oracle cards is the fact that tarot is a set number of cards no matter what deck you pick up and the card tends to have a set meaning. So whether it's the traditional Rider-Waite tarot deck or a Stanger Things take on the deck, each deck will have "The Fool" and they'll mean the same thing.
Oracle decks have no set number of cards in their deck, with the decks having as low as 14 cards to as high as 144. Each oracle deck author will decide on the number of cards and the meaning of each card in the deck.
How many cards do you pull for oracle?
You'll pull anywhere from a single card to 12 cards for an oracle spread, it all depends on the deck itself. In general, you can check out a few basic, every day oracle spreads with this guide.
Are oracle cards easy to read?
Yes, oracle cards are easy to read, especially when compared to tarot cards. This is in part because oracle is more open ended and up to interpretation, rather than tarot which has more literal meanings. If you looking for metaphorical readings, then Lenormand cards might be the right option for you.