Glowwood is an oracle deck themed around ecology, created by Ukrainian-American artist Lisa Biletska and published by Emergent Plant Life. It comes as a box set including a 78-card deck, a linen drawstring deck bag, and a 276-page companion book.
Frankly, we haven't seen any other oracle decks that are this intricate or this heavily rooted in ecology.
We reached out to the author about her inspiration for this deck. She said, "Glowwood flowed out of both a practical and a spiritual engagement with nature (first with plants, then with ecosystems more broadly). There was an epiphanic moment—years ago, on a regular day, en route to work—while running my hand along a hedgerow; a first sense of, you are not alone here. After that: books, hikes, field studies, a children's summer eco-camp in rural Ukraine, a year in the country, learning to forage, certain serendipitous meetings… All of these experiences jelled into something very fertile and interconnected from which Glowwood naturally formed."
Our team tests, researches, and carefully curates all our recommendations. This post may contain affiliate links. We may receive commission on purchases made from our links at no additional cost to you.
We received this product free in exchange for an honest, unbiased review.
A Quick Overview of the Glowwood Oracle Deck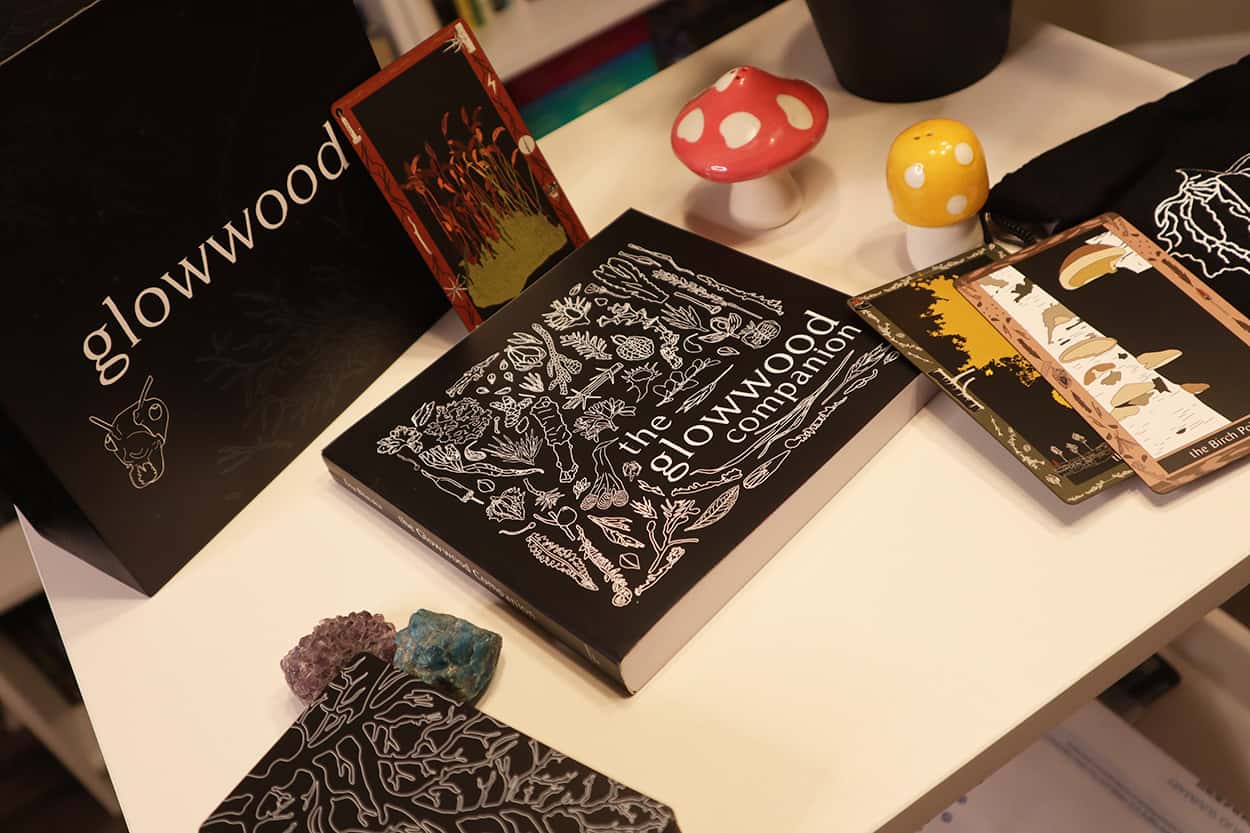 This deck reads like a love letter to the Earth. I believe a quote pulled from the companion book says it best, "Glowwood is nature's language. The cards are the words. The spreads are the sentences." This is exactly the vibe I got while spending time learning the ins and outs of this deck.
I spent a few weeks with this deck learning its quirks and using it for various readings. This deck is genuinely unique with theming that extends straight through to the suggested spreads themselves. (Some such spreads include the Branch and the Seed.)
I love how much passion and time clearly went into crafting this deck with its complex system. It has an extensive guidebook and can be used for simple or complex readings. It is definitely a deck you can grow into.
Pros
Many decks are highly feminine, but this is not. (This could be a pro or a con for you depending upon your personal tastes.)
78 cards make for a wide variation in readings even after months of use.
The extensive guidebook offers unique spreads and plenty of background on the deck's suggested use and the cards themselves.
Cons
May be intimidating for beginners to oracle decks.
Some cards feature beetles and other critters that may be unsettling for some individuals.
Let's take a look at some of the details of Glowwood. (There's a lot going on here!)
Packaging and Materials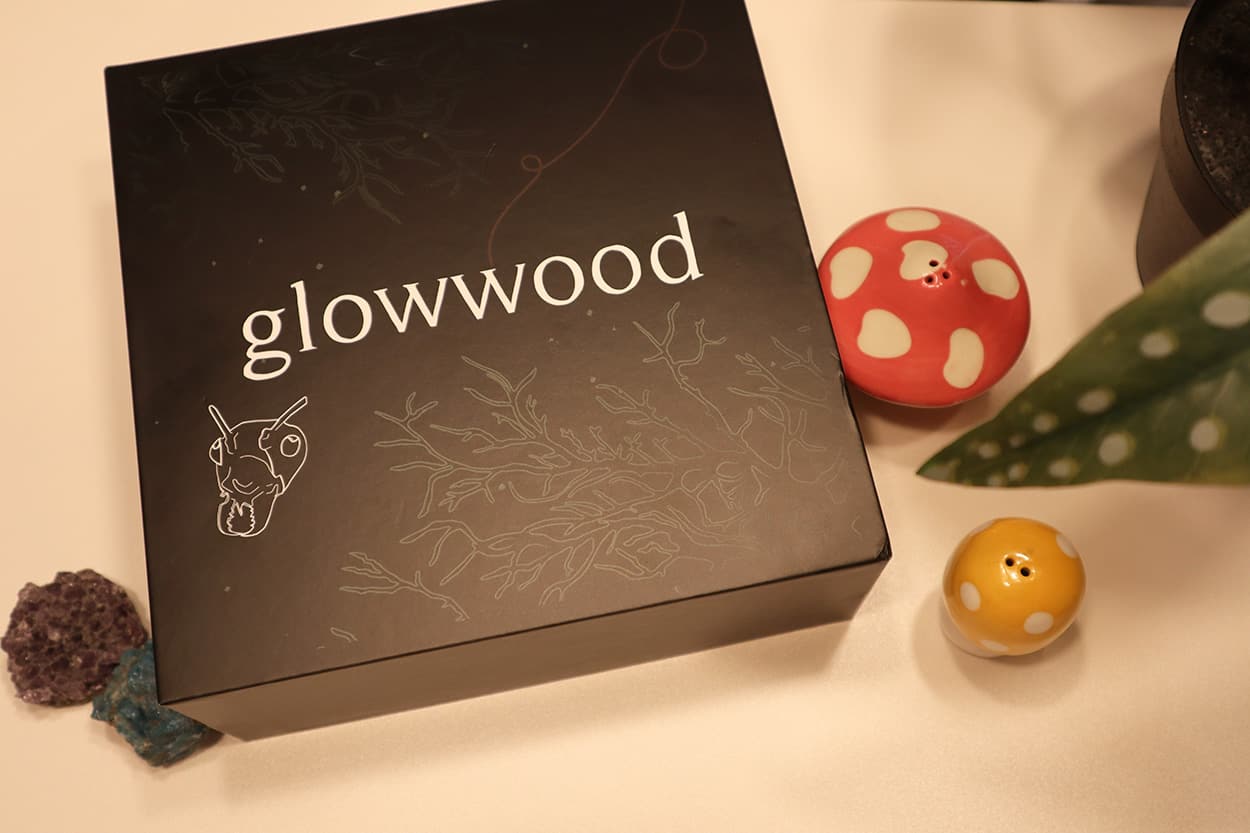 This deck comes in a rather large box that contains the 78-card deck, a drawstring pouch, and the guidebook. The box is a thick cardboard and should stand the test of time if you prefer to keep your decks in their original packaging (like me!).
Alternatively, if you chunk the box and transfer your deck to a bag upon opening, you'll be pleased to find this deck already comes with its own branded linen bag. The deck fits comfortably in this bag and makes for the perfect to-go option while traveling.
Note: I highly recommend heading over to the Glowwood website to download the printable Glowwood Companion that has an easy index of the symbols with images. While this isn't something you might delve into heavily when you first use the deck, it'll come in handy later on.
The cards themselves are a bendy cardstock and great for riffle shufflers. As an overhand shuffler, you'll find this deck will take a bit of breaking in as the cards stick together which is relatively normal with any newer deck.
Artwork
The artwork for Glowwood was illustrated by the author herself, Lisa Biletska. I'm no art major, but I would describe this illustration style to be fieldnote adjacent—as though you are browsing her sketchbook of the various living organisms found in nature. The color palette in this deck is phenomenal, pulling on earthy tones with splashes of blues and pinks where appropriate. My personal favorites have to be the Milkweed, the Willow, and the Snail. Each illustration is highly detailed and a beautiful representation of their real-life counterparts.
Cards
The cards each have an illustration with the name of the animal, plant, or otherwise at the bottom. Each card has a border where additional symbols are included that can be used for more complex readings.
The cards have matte black edging which is gorgeous and really pulls the aesthetic appeal of this deck together.
Note: There are a handful of cards in this deck featuring creatures like beetles and centipedes. If you are rather averse to this type of imagery then this deck may not be for you.
Cardbacks
The cardbacks are black with an outline of roots in white.
Card System
In its most simplistic form, this deck can be read using just the card descriptions and card index. However, there are a number of additional ways you can incorporate more complex readings such as using categories and symbols to see how the cards interact. I definitely recommend starting off simple with just the card descriptions until you learn the deck a bit more before launching into the more complex readings.
I especially like how the author encourages you to, as a final step, go into nature to learn directly from the source and gather information to inform your future readings.
Guidebook
This is the largest, most in-depth guidebook I think I've ever come across. I suggest curling up with a cup of your favorite tea and diving into this companion cover to cover before even starting your first reading.
I particularly love the section on spreads as this deck offers tons of unique opportunities for readings beyond a Celtic Cross or a past/present/future, as is standard for most decks. I was especially drawn to the concept of pruning and planting methods for reading that requires letting yourself be drawn to different upright-facing cards. I will also certainly be returning later in the year for the suggested yearly spread presented in year wheel style.
How to Use Glowwood Oracle Deck
Glowwood may be a complex deck, but it doesn't have to be. The way you use Glowwood is completely up to you according to the guidebook and can be as simple or complex as you'd like for it to be. Let's take a brief look at how I've been using this deck and then discuss how it reads as a deck.
How I Use It
This isn't a deck I grab on a daily basis for a quick morning card pull. I don't think that style of reading is well suited to this deck. Instead, this is a deck I pull when I want to really sit down and spend a good thirty minutes to an hour just meditating on the cards and their relations. The complexity (if you want to get into the symbols and such) requires really mulling over the spread.
I especially like the Seed spread as I feel it works for a shorter yet still detailed reading.
This is a deck I pull my journal out for to jot down notes on each card as I go through the spread and begin drawing associations and connections throughout.
How Does It Read?
This is an introspective and thorough deck. It doesn't have an extremely positive 'You go girl!' voice which I can appreciate in a sea of decks that do just that. It has a calm aura about it and delivers what may be seen as potential negatives in a way that doesn't feel negative at all. This deck 100% makes you slow down and really consider the meanings of each card in the spread and then go back and consider the relation of each card with the others in the spread.
The Perfect Oracle Deck to Grow With You
This deck is an excellent deck for more advanced oracle deck readers, however, it can work for someone newer to the practice as well. If you are a beginner and you're drawn to this deck, I say go for it. It's a deck that can cater to more simplistic readings but gives you the room to grow into learning how cards interact with one another and how to read more complex spreads.
If you're looking for a deck that isn't as heavy on the woo-woo or highly feminine characteristics, this is an excellent deck. It feels very balanced and uses nature as a base of reference rather than speaking to divine beings and spirits. If you walk the skeptic line this could also be an excellent fit.
This deck is available on the Emergent Plant website.