Some witches fly under the radar while others like to add a flair of witchy aesthetic to all areas of their life. If this is your friend (or you), then you're in luck. The witch aesthetic is trendy which means there are options-a-plenty for home goods and decor you can pick as a housewarming gift.
Alternatively, if you want to add a little luck and well wishes to an otherwise innocuous gift, there are low-key witchy housewarming gifts you can present to your friend or family without any sideways glances. But if you'd prefer to stick to tradition, we've included a set of handpicked traditional housewarming gifts with a witchy twist at the end of the article!
Our team tests, researches, and carefully curates all our recommendations. This post may contain affiliate links. We may receive commission on purchases made from our links at no additional cost to you.
Ahead, our 12 favorite witch housewarming gifts.
1. Plant Terrarium with Wooden Stand
This gorgeous plant stand is simple but earthy and gives a definite air of 'witch vibes'. If you are shopping for a green witch or even a kitchen witch, this could be a clever way to incorporate their witchcraft into a subtle everyday decor piece. It makes for an easy way to propagate different clippings or keep herbs close at hand on your kitchen windowsill.
2. Smudge Kit from Mama Wunderbar
Your friend will definitely want to cleanse their new space and what better way to do that than with a smudge kit? This smudge kit from Mama Wunderbar comes with white sage, cedar, flower sage, yerba santa, and palo santo. This smudge kit comes in a presentable little box and includes an insert on the art of smudging with background on each type of smudge stick included.
If you wanted to add your own personal touch, you could make your own smudge sticks or you could hand-select a few different types as many stores and online sellers offer them on a per-piece basis as well.
3. Himalayan Glow Salt Lamp
You really can't go wrong with a Himalayan salt lamp. Whether your friend is into the mystical or not, salt lamps are atmospheric and pretty. Plus, it's a lamp and who doesn't love functional decor? Personally, we're big fans of salt lamps. We may or may not have had four at one point.
If you don't love the style of the one we've mentioned, they also have slat lamps with color-changing bulbs, salt lamp bowls, and even nightlights. Essentially, you've got options.
4. Tarot Card Storage Box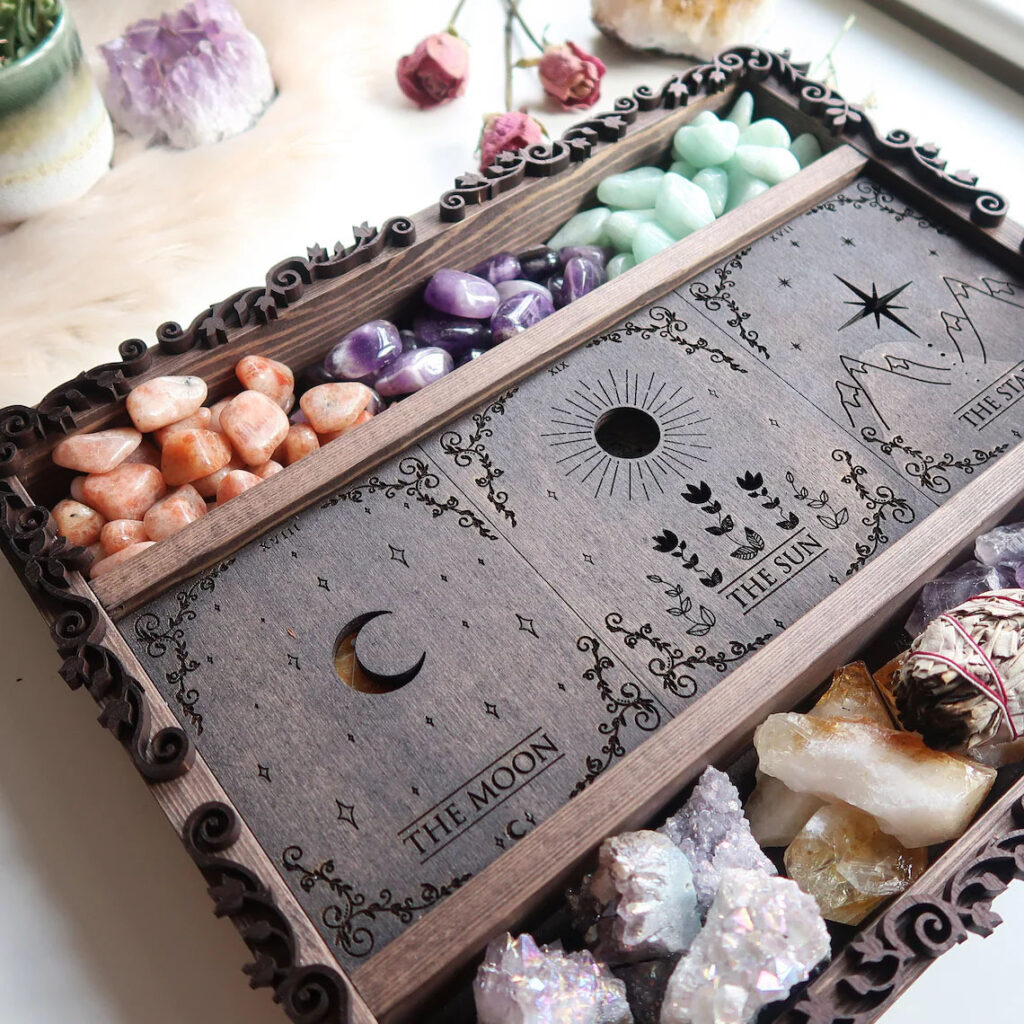 This
tarot card storage box
by Coppermoon Boutique is downright gorgeous. The team at Coppermoon handcrafts all their wooden pieces and does a stunning job of it.
If the friend you're buying for loves crystals and cards then this is a gift that they will 100% cherish. Dare we say, it could even be their favorite gift. (It would be ours.)
5. Folkulture Incense Holder
This incense burner is simple yet beautiful making it a good option for gifting. It should fit in right with your friend's new home no matter their aesthetic. You should definitely include incense with this gift so they can use it right away.
6. Witch Gift Box from Saracen Provisions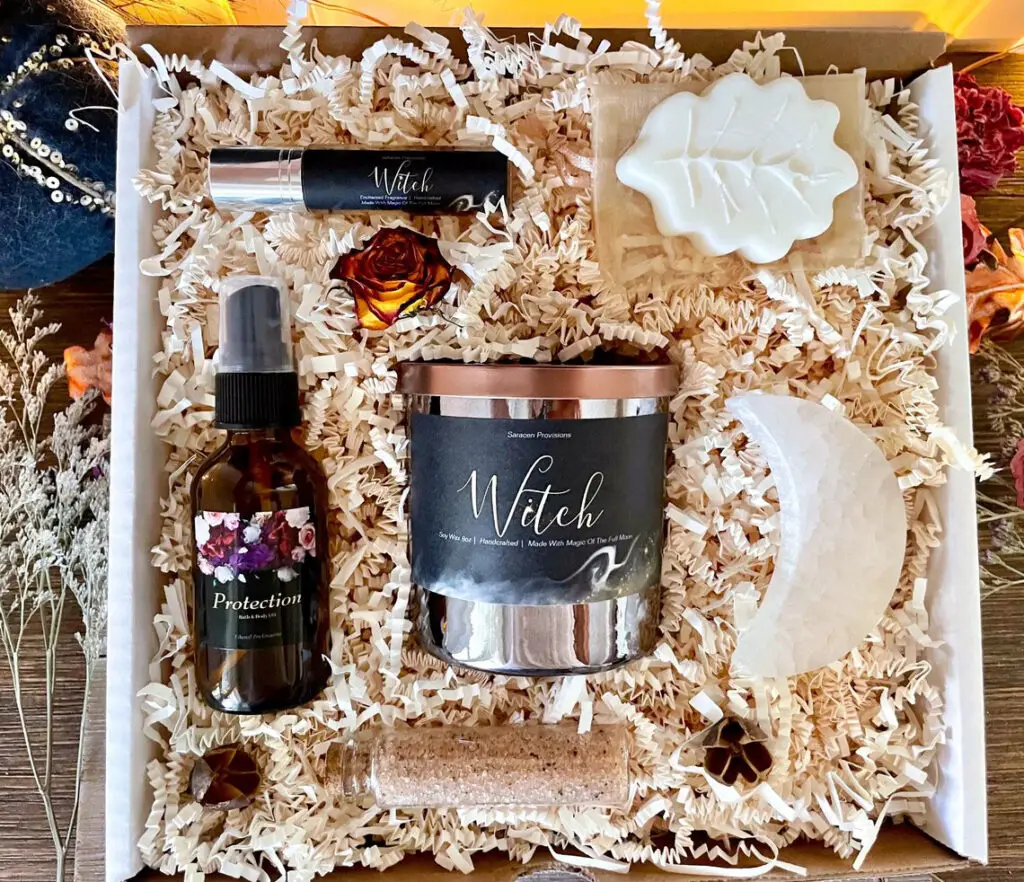 This
witch gift box set
does all the work for you. It comes with an assortment of goodies anyone will love. This includes a soy wax melt, sugar bath salts, fragrance oil, soy witch candle, selenite moon, and protection spray.
7. Witch Bells for Home Protection
Witch chimes are an excellent way to give your friend a little home protection charm. These witch bells are said to drive out negative energies while attracting positive ones. There are plenty of styles to choose from to help ensure you pick one that will most closely align with your friend's style.
8. Moon Lamp
This may be our favorite non-witchy, witchy gift. This moon lamp could just as easily go in a cozy home office as it could on your nightstand. It's versatile and it's pretty (and it's a lamp), what's not to love?
9. Cozy Bath Bundle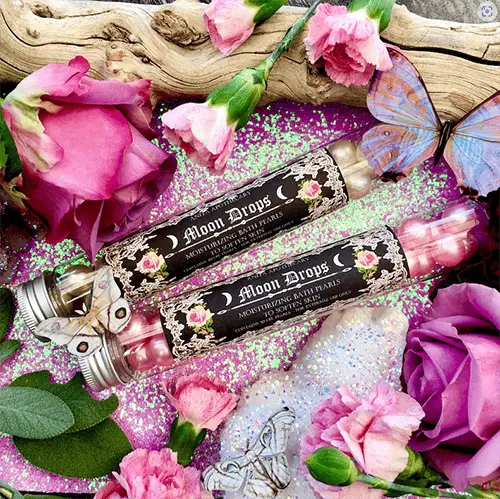 This bath bundle from ThugMermaidd comes with a ton of bath soaks, a ton meaning 11 exactly. It also comes with a reusable bath satchel which you can use to avoid messy cleanups. According to the seller, each bag can get up to two baths use out of it.
It comes with bath soaks that aim at banishing, protection, manifesting, creativity, self-love, confidence, self-worth, raised energies, good vibes, calming, and inner healing. Each with an equally sassy name.
Honestly, if you're like us you'll order this and save a few for yourself.
August 5, 2023 Update: ThugMermaidd, at this time of this update, no longer offers bath bundles. While their shop is still packed with goodies like manifestation, incense, and candles, we decided to search out an alternative for bath products. Anita Apothecary Shop and YTB Creations LLC are both excellent options for bath products of the witchy bent.
10. Moon Phase Mirror Set
This moon phase mirror set is minimalist and gives off just the hint of a witchy vibe.
11. Crescent Moon Shelf
Give your friend the perfect opportunity to display their favorite crystals and art with this moon shelf. It includes seven different shelves. There are a number of similar items on the market that are similar to this design if you don't feel like this particular moon shelf lives up to your friend's aesthetic.
12. Traditional Gift Basket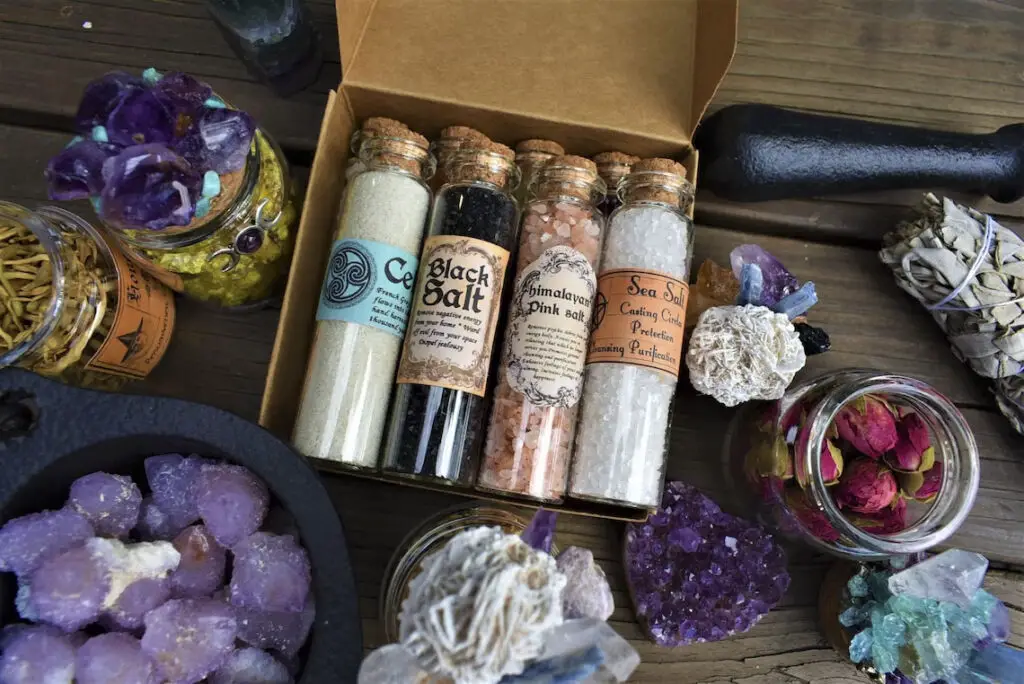 Did you know there are actually traditional gifts generally given for housewarming? Here's our witchy spin on the tradition:
Bread – For full cupboards and a house that doesn't know hunger. Kitchen witches especially will be excellent at making their own loaf to include in their housewarming gift basket.
Salt – To ensure life always has flavor and luxury. We recommend this cute salt kit from Etsy which includes four to eight salts that are perfect for protection and cleansing spells. The salts included are Celtic, Himalayan Pink, Black, Sea, Mediterranean, Red, Green, and Violet.
Sugar – To ensure your life always has sweetness. You can include the Solstice Spice Sugar Hearts from Anita's Apothecary to substitute typical sugar in your witchy housewarming gift basket.
Wine – This symbolizes the intent that you will have good cheer and prosperity. Honestly, just grab your favorite wine bottle for this one. I don't have any recommendations that can top a good bottle of wine.
Honey – This is also supposed to inspire sweetness in the receiver's life. Again, we turn to Anita's Apothecary and recommend the Hibiscus Rose Honey.
Broom – This item is to sweep away bad luck and evil. Check out this gorgeous Moon Child Witch's Besom from The Luna Fae Shop on Etsy.
Coin – This symbolizes good fortune. There's no easy option for this but I'd recommend subbing it out with an evil eye pendant like these Evil Eye 7 Knot Lucky Bracelets or with a stone spirit animal totem.
Candle – This item represents light and happiness. You could include spell candles or your typical Bath & Body Works candle depending upon your friend's tastes.
Olive Oil – This item stands for health and well-being. You can find many anointing and intention oils available on Etsy from sellers like CatalystMoonMagick, ThugMermaidd, and TheBriarwood.
Wood – Wood is said to bring stability and peace to your home. There are many directions you could take this when adding it to your witchy housewarming gift basket. I'd recommend going with a wooden incense burner.
Houseplant – To ensure your home always has life. Houseplants are easy to find at your local home and garden stores. You'll just want to be sure the receiver of your gift doesn't have allergies or pets that could be sensitive to the plant you pick.